Frequently asked questions
Pellentesque habitant morbi tristique senectus et netus et malesuada fames ac turpis egestas.
Is sunless tanning safe?
Yes, it is. The main ingredient, Dihydroxyacetone (DHA), a sugar cane derivative that results in the tan, has been tested and approved for safety in 1973. When DHA is applied to the skin, it only penetrates the top layer of skin — it does not absorb into the body or bloodstream.
Do Spraytan's sunless tanning products contain alcohol?
No. Alcohol dries out the skin and causes irritation. It also increases the degradation of DHA and as a result shortens the shelf life of the product.
Do Spraytan's sunless tanning products contain fragrances?
No. Our products are designed for people with very sensitive skin. Nobody want a sunless tanning solution that smells too strong or is very overpowering. This can be very unpleasant and many male salons have clients that appreciate our fragrance-free solutions.
Will Spraytan's sunless tanning products stain my clothes or bed sheets?
Our sunless tanning products dry quickly and are water-based so it rarely transfers to clothes or bedding. If it does transfer, it can easily be washed in a normal rinse cycle and won't permanently stain or damage your clothes or bedding.
I'm about to sample your sunless tanning solutions. What differences should I look for as I spray on the solutions?
With our sunless tanning solutions, you can feel and see the difference on your skin. It's way ahead of any other products on the market.
How long does a sunless tan last?
A Spraytan sunless tan will typically last 5-8 days. To expand the life of the tan, exfoliate thoroughly using our exfoliant prior to application. Make sure you moisturize generously each day after the application.
What if I always burn (never tan) in the sun. Will I be able to get a sunless tan?
Most definitely! If you have very fair skin (Skin type 1), and always burn in the sun and therefore you have never been able to tan, you can achieve a sunless tan. With Spraytan's sunless tanning solutions, you will look fabulous.
How can I maximize the shelf life of my sunless tanning product?
Any of our products should be used within 12 months of purchase. To maximise the shelf life of the product, keep the container closed tightly and keep it away from sunlight. Never freeze the product.
Is sunless tanning safe for pregnant women?
Our products have not yet been tested on pregnant woman and as a result we do not recommend the use on pregnant women. If you think you might be pregnant and you want to use this product, consult your physician first to get written permission prior to application to allow use of our sunless tanning products.
Our Products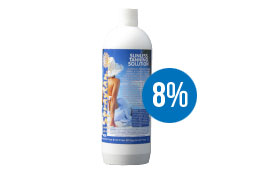 8% Solution
Our 8% spray tan solution is ideal for clients who are light haired, fair skinned with freckles.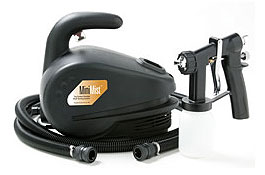 Spraytan Machine
Light weight and perfectly portable, the Mini-Mist® is expressly designed to apply tanning solutions evenly and efficiently.
Contact Us
Head Office +27 (0)21 557 5279
Johannesburg +27 (0)83 244 5583
Pretoria +27 (0)83 244 5583
Durban +27 (0)79 266 8265
Garden Route +27 (0)84 583 6696
Klerksdorp +27(0)18 468 8178