How spray tanning works
Dihydroxyacetone (DHA) is a colourless chemical that interacts with the dead cells located in the stratum corneum of the epidermis. The DHA causes a chemical reaction with the amino acids on the outermost layer of the skin. This chemical reaction takes 4 to 8 hours to become noticeable and lasts 5 to 8 days from time of application.
Every day, millions of dead skin cells are sloughed off or worn away on the surface of the skin. In fact every 35 to 45 days, you have an entirely new epidermis. This is why tans from sunless – or self-tanning lotions will gradually fade – as the dead cells are worn away, so is your tan.
Insist on a "Spraytan" spray tan
Our solution is:
Water based – is dries quickly, no standing in front of fans for a long time, no sticky feeling.
Alcohol and aloe vera free. Can be used on the face as well.
Odour and fragrance free. Men also like it. Suitable for all skin types, even sensitive skin.
And best of all, a natural looking tan – no orange!
What to expect when you get a spray tan?
When you book you will receive pre-tanning preparation instructions.
At the beauty salon, a trained Beauty Therapist using a small HVLP turbo unit (similar to a vacuum cleaner) will spray a thin layer of tanning solution evenly onto your body.
You may stand in a costume, old underwear, disposable G-string or naked. Because of the low pressure, the equipment will not cause injury to eyes and ears. Our solution dries almost instantly and you will be able to get dressed as soon as the spraying is complete.
You will receive post tanning instructions which includes no bathing / showering / swimming for at least 6 hours.
There are mobile spray tanning therapist who will come to you for a spray tan in the privacy and comfort of your home.
Spray tan costs
We do not prescribe to salons what they should charge. The going rate throughout South Africa seems to be around R250 per tan.
Salons offer specials for group bookings, or if you book a series of tans – ask about their specials.
Our Products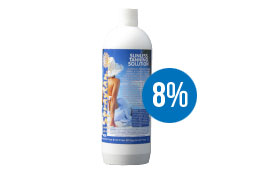 8% Solution
Our 8% spray tan solution is ideal for clients who are light haired, fair skinned with freckles.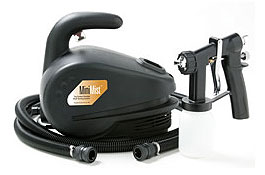 Spraytan Machine
Light weight and perfectly portable, the Mini-Mist® is expressly designed to apply tanning solutions evenly and efficiently.
Contact Us
Head Office +27 (0)21 557 5279
Johannesburg +27 (0)83 244 5583
Pretoria +27 (0)83 244 5583
Durban +27 (0)79 266 8265
Garden Route +27 (0)84 583 6696
Klerksdorp +27(0)18 468 8178